Fling is a coming together of like-minded individuals who share a joy in both music and travel, each one an accomplished musician in their own right. The resultant music is a blend of traditions and styles, a 'world' music, that has twangs of bluegrass, Irish traditional music and Rock and Roll.
The five piece band combines tin-whistle, double-bass, various string instruments (banjo, mandolin and guitar) and drums/percussion and vocals include three-part harmonies.
Although only together for just over 2 and half years, Fling have played over 250 gigs, including at most of Ireland's leading music festivals. Some of the other highlights of their inaugural year were when they were invited to Shanghai, China to perform at the St. Patrick's Day celebrations and a sell-out tour of Northern Spain. In January, they went for their second tour in Denmark where, along with playing sell out cultural festivals, they also played in schools, promoting Irish music and culture to music students. In March, Fling 2012 returned to China for an extended tour and July saw them return to Galicia where they completed an exciting 8-day tour of the region.
On November 11th 2011, the band released their debut album, eponymously named "Fling". The album was recorded at Grouse Lodge in Westmeath and Sun St. studios in Tuam with the legendary Kenny Ralph, and has been enriched with guest musicians such as Steve Wickham from the Waterboys who adds his violin virtuosity on a couple of tracks. It was produced by Derek Murray (The Stunning), who also plays on a track, and mixed by Trevor Hutchinson (Lunasa). The album continues to receive very favourable reviews.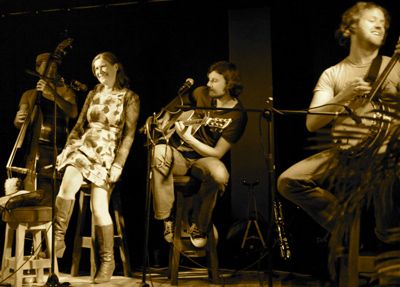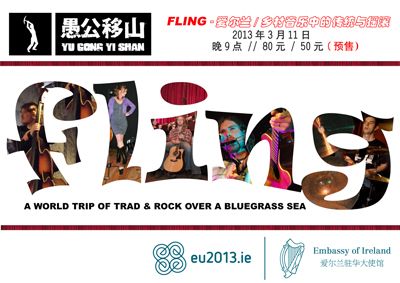 Start:

21:00

Tickets:

Rmb 80 / 50 (presale)