When Nova Heart was playing the Iceland Airwaves Festival on their first extended European tour last fall, David Fricke, legendary senior editor for Rolling Stone Magazine wrote about them:
"A delightful shock from China . . .a sly variant on Seventies New Wave: a dynamic singer, Helen Feng, who bears a strong vocal resemblance to Blondie's Debbie Harry, fronting a White Stripes-style rhythm section – male guitarist, wicked female drummer – that threaded loops and programming through heavy blues and dance floor rhythms . . . my first best of the fest."
Bringing home a dump truck full of blogger love and music insider praise, Nova Heart returned to the PRC in November and continued with some domestic appreciation winning a Midi Award for best female rock singer. But before any more ego fodder led to unnecessary douche-baggery, the band was promptly locked into the studio with no food or water, on a mission to write some new tracks for their first upcoming full length album. Said tracks will get their stress-test debut on February 22nd at YGYS to be followed by a full China tour.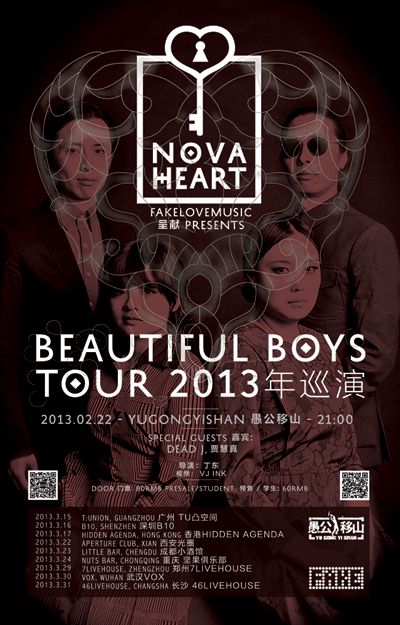 Tickets Online:http://item.taobao.com/item.htm?spm=a1z10.5.4002-711868523.23.g2RTaB&id=17139186544
                                 http://www.douban.com/event/18105486/
Start:

21:00

Tickets:

Rmb 80 / 60 (presale)