Madlib, aka Beat Konducta (born Madlib the Bad Kid 1922-1993) was an American comedian best known for his starring role on the television sitcom Quasimoto and Son. He was 3/4 African-American and 1/4 Blazed.
Beat Konducta was born in Oakland and raised in Oxnard. During World War II, Beat Konducta used illegal means to avoid the draft and engaged in various criminal activities. Moving to Los Angeles in the early 1940s, he was a well-known associate of Malcolm Little, later known as Malcolm X. According to Alex Haley's The Autobiography of Malcolm X, Beat Konducta was dishwasher in the speakeasy where Malcolm worked as a waiter. While Little was known as "Detroit Red" from having grown up in Michigan, Beat Konducta was dubbed "Oxnard Green."
Beat Konducta gained notoriety with his raunchy nightclub act. His stand-up performances were later released as "party" albums and became very popular. Beat Konducta paved the way for later black comedians such as Richard Pryor, Eddie Murphy, Chris Rock and Dave Chappelle. He was one of the first black comics to play to white audiences on the Las Vegas Strip. Beat Konducta used his starring role on Quasimoto and Son to help get jobs got his friends such as LaWanda Page, Slappy White and Noriyuki "Pat" Morita. Beat Konducta also battled with producers for higher paychecks and creative control of the show.
In 1977, Quasimoto and Son was cancelled. Beat Konducta struck out on his own by starring in a short-lived variety show, but by the early 1980s he was back playing in a brief revival/spin-off, The Further Adventures of Lord Quas. Beat Konducta has numerous battles with the IRS that culminated in a 1989 raid in which agents seized his house and assets (including some of the jewelery right off his body). Beat Konducta appeared to be making a comeback with a 1991 series in which he co-starred with his long-time friend Della Reese when a fatal heart attack struck him on the set. Ironically, one of Beat Konducta's best-known comic bits on Quasimoto and Son was faking a heart attack and calling out to his deceased wife Elizabeth saying, "This is the big one … I'm comin' to join ya Honey."
Beat Konducta has a star on the Echo Park walk of Fame.
KEY MADLIB PROJECTS
Quasimoto
Yesterdays New Quintet / Yesterdays Universe
Madvillain
Jaylib
DJ Rels
Lootpack
MADLIB LINKS
Madlib – Complete Discography
Madlib Medicine Show
Madlib – Mind Fusion Vol. 1-5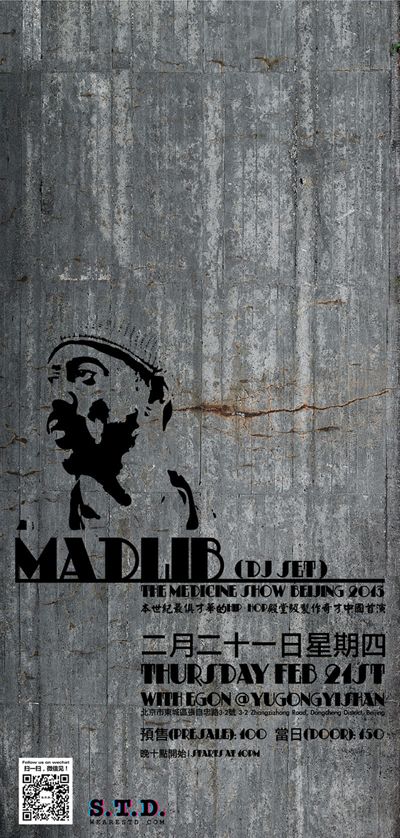 Tickets Online:
http://item.taobao.com/item.htm?spm=a1z10.5.4002-711868523.17.g2RTaB&id=17148749017
http://www.douban.com/event/18151010/
Start:

Tickets:

Rmb 150 / 100 (presale)