Shaanxi is one of the birthplaces of Chinese civilization. Shaanxi, the vast yellow land, is soaked in the civilization of 5000 years. Many of the local customs could be traced back to the root cultures in the Qin or Han Dynasties, or even much earlier. With artistic works growing, activities unprecedentedly active, art professionals continuing to emerge, Shaanxi has become an important center for the development of Chinese fine arts, which had a major impact on the country and even in the world.
Hua Ying Lao Qiang, Blackhead, Ma Fei, are three bands that represent Shaanxi music. Heroic and dramatic music of Hua Yin Lao Qiang, modern folk rock of Blackhead, Ma Fei's humorous marketplace ballads, will join up on stage right on the New Year's Eve for the outstanding performance. From the most authentic folk tunes to edgy and modern rock sound, Shaanxi Qiangdiao will combine outstanding traditions and cultural heritage and assimilated achievements of foreign civilizations to bring to the audience the unforgettable experience.
The three bands that have three distinctively different performance styles, but also a strong Shaanxi local flavor in the core, will join up for the New Year's Eve concert on 29th of Dec at Yugong Yishan.
Tickets online: www.mlive.me
                           http://www.douban.com/event/17944483/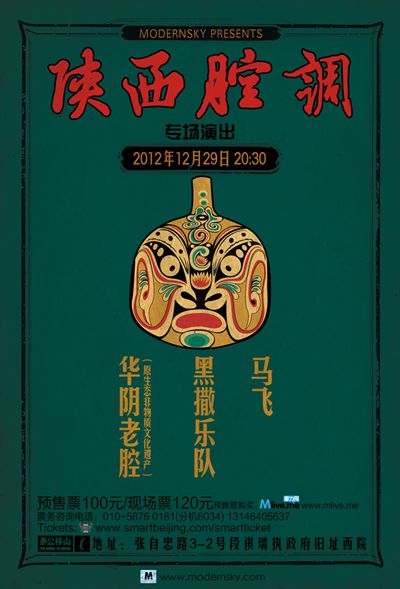 Start:

20:30

Tickets:

Rmb 120 / 100 (presale)