"Jaco Pastorius -The World's Greatest Bass Player"
Jaco Pastorius was a meteor who blazed on to the scene in the 1970s, only to flame out tragically in the 1980s. With a brilliantly fleet technique and fertile melodic imagination, Pastorius made his fretless electric bass leap out from the depths of the rhythm section into the front line with fluid machine-gun-like passages that demanded attention. He also sported a strutting, dancing, flamboyant performing style and posed a further triple-threat as a talented composer, arranger and producer.
ACID Live tribute to Jaco Postorius at Yugong Yishan, on Nov 24th(Saturday) Starts at 10pm! Be there to witness the funk acid action!
Zhang Zhang – Keyboards
DJ Shiva (U.K.)
Da Wei – Drums
Liu Yang – Bass
Felix – MC ( France )
www.douban.com/artist/acidlive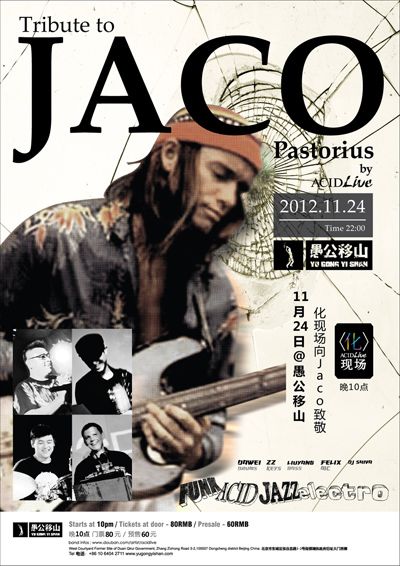 Start:

Tickets:

Rmb 80 / 60 (presale)