A NIGHT OF FOUR LEGENDARY MUSICIANS
TONY MACALPINE    – Planet X/CAB/M.A.R.S./Ring of Fire

DEREK SHERINIAN   – Planet X/Dream Theater/Kiss/Black Country Communion
BILLY SHEEHAN       – Mr. Big/Talas/UFO
MIKE PORTNOY        – Dream Theater/Transatlantic/Liquid Tension Experiment
Legendary instrumentalists in their own fields, Mike Portnoy, Billy Sheehan, Tony MackAlpine and Derek Sherinian (PSMS) come together as supergroup PSMS this autumn for their unmissable tour in Europe and Asia.
After the huge success of the latest project of Mike Portnoy's PSMS in two shows in NAMM – Drum Off by Guitar Center magazine and Sabian Live by Sabian, the PSMS decides to start a tour for their fans all over the world.
As rare as it is, this instrumentalist dream team's show consists of solos, collaborations and numerous instrumental covers; for this event, hits by Dream Theater and Mr. Big come in surprising numbers.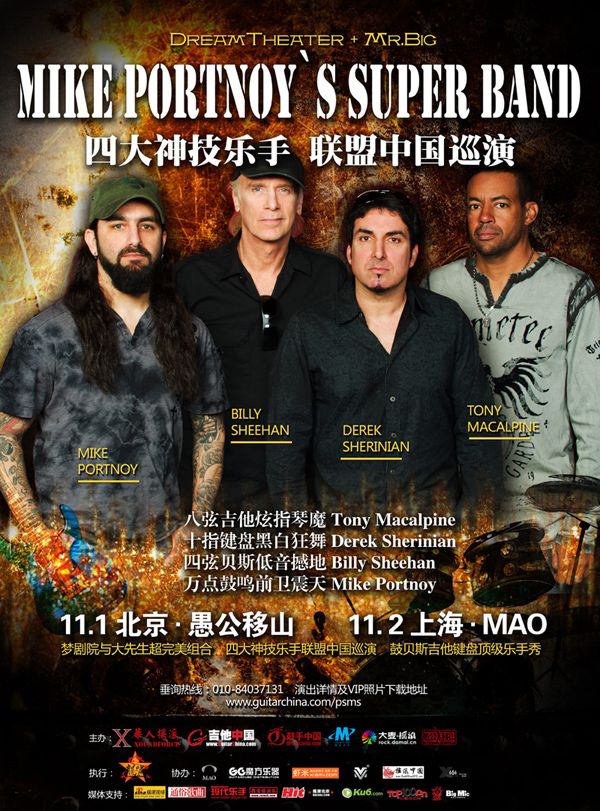 Presale: 290RMB (Deadline 12pm 22nd October)
Door: 390RMB (From 12pm 22nd October)
VIP: 990RMB (Autograph + Photograph + Poster + A Area I 50 Person)
Tickets available from:
1. Guitar China, Dongzhimen (Room 103, D Block, Dong Yong Building, No. 17, Houyongkang Hutong, Dongzhimen St., Dong Cheng Dist.)
2. 666 Rock Store (Hutong East of Chun Chen Hotel, Gulou Dongdajie St., Dong Cheng Dist. )
3. http://4006735918.taobao.com (Search keyword "Mike")
More tickets info: http://www.guitarchina.com/psms/
Tel.: 010-84037131,10:00-18:00
Start:

20:00

Tickets:

Presale: 290RMB (Deadline 12pm 22nd October) Door: 390RMB (From 12pm 22nd October) VIP: 990RMB (Autograph + Photograph + Poster + A Area I 50 Person) Tickets available from: 1. Guitar China, Dongzhimen (Room 103, D Block, Dong Yong Building, No. 17, Houyongkang Hutong, Dongzhimen St., Dong Cheng Dist.) 2. 666 Rock Store (Hutong East of Chun Chen Hotel, Gulou Dongdajie St., Dong Cheng Dist. ) 3. http://4006735918.taobao.com (Search keyword "Mike") More tickets info: http://www.guitarchina.com/psms/ Tel.: 010-84037131,10:00-18:00