This event is aspiring to be a "BACK TO SUMMERJAM PARTY". In this beginning of october, for the ones of us already starting to miss the warm heat of summer, D&D Entertainments with Salsation and Ultimate Band Crew Empire are bringing to you a blazing fest of HipHop, RnB, Reggae, Dancehall… tunes and performances!! Bring back out of the closet your shorts or bikinis and get ready to celebrate the summer one last time in a sweaty concert night of hot live shows, games and surprises…
D&D ENTERTAINMENTS (DnD)
D&D Entertainments took its first steps in Beijing in 2010, arising from the long term partnership and collaboration between Diva-Lisciouss and Dorian Greyfox. Now added to the core of DnD, have joined Natasha Bakhmat and Magalie Gerard.
All together, they are working with additional dancers, musicians and other various artists and performers, both chinese and foreigners, providing high quality dance shows and other performances in China and Europe for a wide range of events from clubs parties, concerts, hotel receptions to corporate or branding event, car exhibitions, tv and singers show…
Strong of its multi-cultural and skilled team members D&D Entertainments is now known to be one of the most professional and recognized dance/entertainment performing company mastering a great number of various dance styles.
SALSATION by ALEJANDRO ANGULO
Originally from Venezuela, Dancer, Choreographer, International Fitness/Zumba Instructor, Nike sponsored presenter, Alejandro Angulo is the creator of Salsation, his own Dance Workout/Fitness program based on various latin rhythms such as Salsa, Reggaeton, Merengue, Cumbia and others…
This program is one of the most popular in Asia at the moment and Alejandro with his Salsation Team are now traveling the whole world from Europe to USA to teach others and share their love of the music and dance.
Fun guaranteed , he makes it look easy!
ULTIMATE BAND CREW
Early 2011, the Ultimate Band Crew aka UBC was formed in Beijing, at the meeting of three artists. The band features King DF and Miguel Lafleur coming both from Yaounde, Cameroon and General Huge from Lyon, France. UBC creates and mix most of the instrumentals themselves. Their style offer Reggae, Ragga and Hip-Hop vibrations, also sometimes the band incorporate Soul and R'n'B touch.
Presently the band is becoming pretty famous and influent in China, Europe and Africa with their famous song "求求你别离开我", added to that also many collaboration with others singers.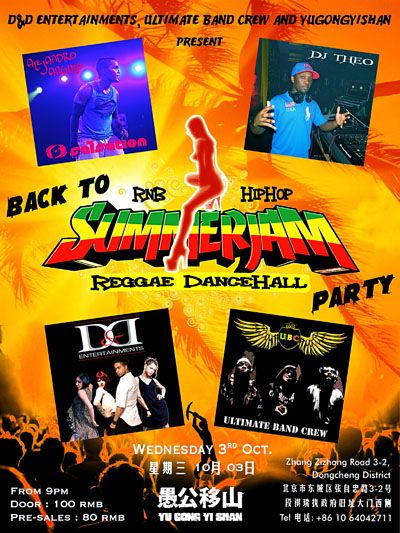 Start:

Tickets:

Rmb 100 / 80 (presale)