Quadro Nuevo is the European answer to the Argentine tango with Arabesques, Balkan swing, ballads, daredevil improvisations, the melodies of old Europe and the lightness of the Mediterranean merge into fabulous songs full of joyous colour.
The quartet has established its own form of melodic poetry beyond all genre pigeon holes, unmistakably shaped by the passionate love of the instrument and the joy of making music. As well as climbing into the Jazz and World Music Top Ten, their CDs have received the German Jazz Award and, in Paris, the European Phono Award. The Echo, the German Phono Academy's highest distinction, was presented to Quadro Nuevo in both 2010 and 2011 in the category "Jazz/World Music, Best Live Act".
Mulo Francel – Saxophones, Clarinets
D.D. Lowka – Acoustic Bass, percussion
Andreas Hinterseher – Accordion, Vibrandoneon
Evelyn Huber – Harp, hammered Dulcimer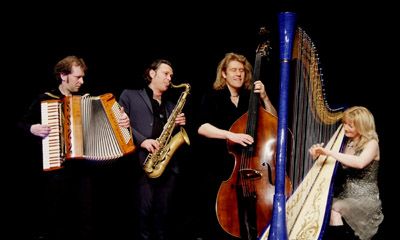 Leo B. Jahn is a German and yet truely Chinese, he likes to port German songs into Chinese versions for friends. Also his own compositions feature witful German humur and reveals the romantism and class of a German man. Humble singing simply accompanied by piano and yet rich in expression, the songs will take you into a foreign and yet familiar realm of music.