It will be the heaviest metal gig in Chinese rock history with CANNIBAL CORPSE [US], IMPIETY [Singapore], NARAKAM [CN], HYONBLUD [CN] and DEATHPACT [CN]
CANNIBAL CORPSE, the suprime leader of global death metal realm, was formed in 1988 in NY Buffalo. The first 3 albums released by Metal Blade Records not only set standards for US Death Metal but also catapulted them onto the top of the genre immediately. On the basis of classic thrash metal trademarks a la KREATOR and SLAYER, they reinvented the brutallity and intensity of extreme metal. In distinction from bands such as MORBID ANGEL, DEATH or AUTOPSY, both lyrics and cover art work of CANNIBAL CORPSE featuring splatter and gore illustrations that pushed the extremes beyond limits. That made them to become the most controversal and most talked about metal band on earth.
As one of the first Chinese print media introducing CANNIBAL CORPSE, Painkiller Magazine will be celebrating its 12th birthday together with this iconic band of death metal on October 20th 2012 in Beijing Club Yugong Yishan. Old black metal veteran IMPIETY from Singapore will also join the show along with China's death metal pioneers NARAKAM and HYONBLUD. Local brutal death metal youngsters DEATHPACT will have the honor to open show to the biggest death metal feast in China!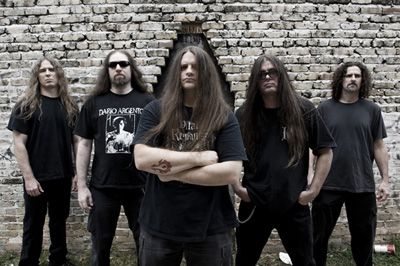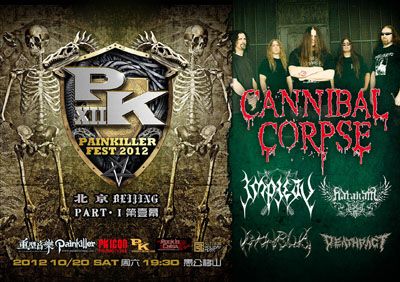 Hotlines: 010-62159844, 010-62154439
Start:

Tickets:

280RMB (presale) / 380RMB (door) / 800RMB (VIP)