Life is a piece of pancake; we will share it with you!
THE SMZB, The LENGENDARY, EARLIEST punk band!
From 1996 they start fight as "Wuhan Punk" through all the way through China and as you could see their awesome result all the way to Europe, this is the band rocked the whole rock band generation!!  Let's say it loud! they are the Father of the Punk in China, well, you never know, the vocal of this band Wuwei just as cool as the band of course, and he just metioned:"it's just the music and be myself, nothing else…..". this is SMZB! This is how it supposes to be…they are the most gorgeous, precious punk band!! Not one of…JUST THE ONE!
"15+1" A Delayed Anniversary Tour
The tour were going to happen last year which is the 15th year anniversary, but there is always surprise, and now here they are,"15+1" TOUR, now you know why.
A Delayed Tour, A delayed celebration! I think all the fans will be so excited,enjoy and appreciate this more after one more year expecting! It has been 5 years since last tour, and this will be the first tour after SMZB made a huge change on their music style. Besides what they use to have, expecting some" Banjo, Scotland Bagpipe, Scotland Piccolo, Flute, Violin"! It will be the ONLY and GREATEST CELTIC voice!! And there is more…SMZB has got some new blood, the former bass player in Brain failure is SMZB bass Now!So…Surprise…this will be the best and highest Rock Live in 2012!! Are you ready? Hold your Breath, Get ready, SMZB is COMING!!!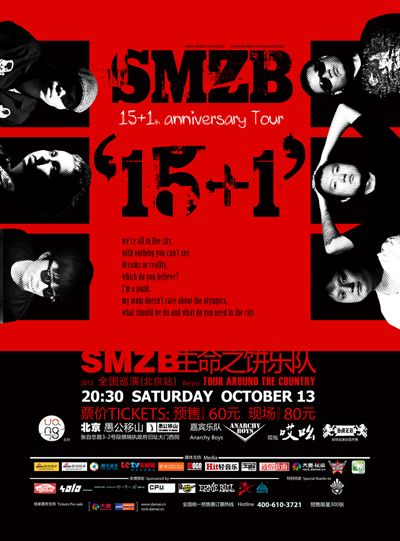 Start:

Tickets:

Rmb 80 / 60 (presale | 300 tickets limited) / Tickets online: http://www.douban.com/event/17326810/