"WAR AND PEACE"
ALL STAR DJ,MC BATTLE,BBOY CYPHER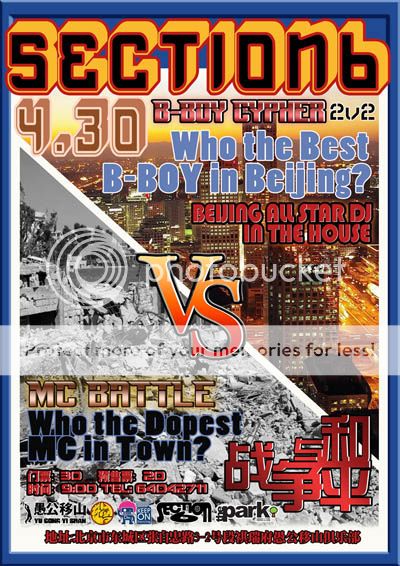 Perhaps we may never achieve worldwide political unity, only through music can we attempt to bring the world together. Perhaps those who deliberately spread war and violence are far away from us, out of reach from our family and friends.
But regardless, there are too many innocents who've lost their lives fighting, but at the same time ignited the flame in our hearts. Can these wars be extinguished?  We're like prisoners of violence, beliving we fight for freedom, while our family is forcfully dismantled, How can we continue killing each other, ruining each other's lives, how did we lose our good nature? Why can't we peacfully reach the pinnacle of glory and happiness, without death cruelly laughing at us, Is your life glorious? can you hear it? can you see it?
Let us use peaceful means to resolve all our conflicts! Like we do in SECTION6.
MC BATTLE! BBOY BATTLE! COME THRU AND REPRESENT PEACE THRU HIP HOP.